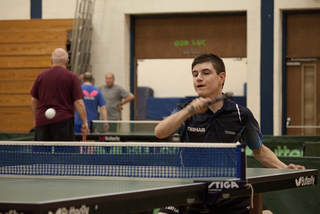 2017 MILLCREEK OPEN
TABLE TENNIS TOURNAMENT
October 14-15, 2017
Erie PA
The entry blank is available
here
. Signup online with Omnipong. Payment is required with your entry! Click here to see a list of entries so far.

Eighteen
events on 18 tables in a large modern well-­lit gym! $3000 cash prizes plus trophies!
The tournament is sponsored by
Paddle Palace
, the
Glass House Inn
, and the Millcreek Parks & Recreation department. Please patronize these sponsors. A list of other Erie hotels can be found
here
.
​
Payment MUST accompany all entries. Three ways to enter:
- Go to
www.OmniPong.com
and pay with PayPal.
- Go to
www.PayPal.com
, click "Pay for Goods & Services", enter eriettc@gmail.com as the recipient, enter the correct dollar total, and type the info requested on the entry blank into the "Special Instructions" box.
- Mail a check with a paper entry blank, see details on entry blank. CAUTION: mail early! Entries are processed in the order received and events often sell out.
We offer mileage credit for those traveling long distances. Each player may deduct from his payment $.10 per mile for every mile over 200 one way, up to a maximum of 25% of your entry fees (cost to enter events not including other fees). Round to nearest dollar. Use Google maps to calculate distance from your current residence to the tournament site. If entering by Omnipong- use the "Goodies" button to enter your mileage discount. Otherwise- subtract the correct dollar amount from your payment.
Attention table tennis widows! The
Millcreek Mall
with over 180 stores is located about 10 minutes from the tournament site.
Presque Isle Downs & Casino
is about 20 minutes from the tournament. Now open 24/7!
​
---