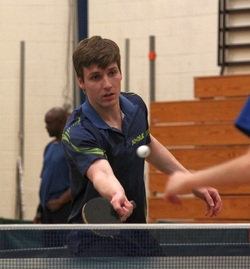 2014 Millcreek Giant Round Robin
Erie PA Oct. 12-13
By Sam SteinerClick
here
for the SIngles RR results of the tournament.
Click
here
for the Team event results.
Click
here
for the USATT rating results (corrections pending).
Click
here
for the tournament photo album.




All photos by Sharon Steiner
---
Day 1 of this punishing tournament consisted of two giant round robin groups per person, with a qualifier round leading into a playoff round. A.J. Carney from Rochester, now living in Wake Forest NC, made the long drive to Erie to appear as the top rated player entered. A.J. was excited to be offered a position coaching and helping to manage a new dedicated club being built near Raleigh. A.J. struggled on Saturday, with losses to 1st place finisher Keith Pech of Ohio and Alex Csibi from Toronto. Keith went undefeated in the top group winning all his final round matches handily. Notable was Alex Averin's match with Alex Csibi, where Averin came that close to upsetting the 2230-rated Csibi, losing at 14-12 in the 5th game. Des Preston dominated the 1L group winning 11-2 in the 5th over 2nd place Tom Yost.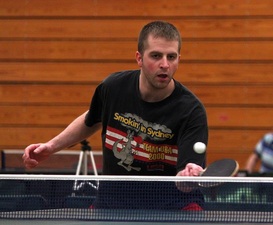 Day 2 involved a giant round-robin of 2-man teams, with free Ibuprofen available to the players. Considerable drama prevailed in the top group with 2nd seeds Preston & Carney looking to upset top-rated perennial winner South Park, consisting of Chip Coulter, Mike Walk, and Randy Seemiller. Randy started the tie with a 3-0 win over Des, but then A.J. raised his level of play substantially from Saturday, beating Mike 3-0 in spite of some difficulty with Mike's dreaded windshield wiper serves. Next up was doubles where Randy & Chip downed A.J. & Des in an exciting 5-game match, and South Park seemed to be in the driver's seat. Next was A.J. over Randy 3-0 tieing the match at 2-2 and setting up the climactic match of the 2046-rated Preston vs. the 2220-rated Walk. Amid chrouses of cheers and groans Des played what he called the "match of his life" and with powerful loops on both sides upset Mike 3-1 to take the title.
---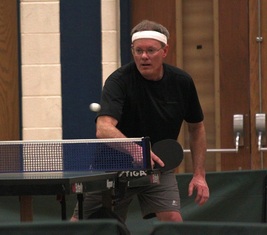 In division 2 the Binghamton NY power team of De Los Santos and Xu narrowly captured first over the coming-out-of-retirement Ubry & Spetsios, in spite of a 3-2 loss to the Windsor team of Syal & Korneev.

In division 3 play the Rochester team of Emord & Wawrzaszek easily cruised to a 3-0 win over all opponents, with Dan sporting a new 1600+ rating and Zack probably playing the best of his career so far. Runners-up were the Erie team of Chad Moore & Dan Waugaman.

Our thanks to sponsors Butterfly Online, the Glass House Inn, and the Millcreek Rec & Parks department, as well as all players, spectators, and tournament committee members.
---
Singles Giant RR Saturday April 12, 2014

Division 1U Division 1L

1. Keith Pech, Strongsville 5/0 1. Des Preston, Rochester 5/0

2. Alex Csibi, Toronto 4/1 2. Tom Yost, Portsmouth 4/1

3. A.J. Carney, Cary NC, 3/2 3. Ken Roskos, Pittsburgh 2/3

4. Alex Averin, Cleveland 2/3 4. Aydin Aykanat, Rochester 2/3

5. Don Hamilton, Dayton 1/4 5. Wayne Carney, Rochester 2/3

6. Ali Khatami, Cleveland 0/5 6. Alain Thomas, Toronto 0/5

Division 2U Division 2L

1. Roger Liu, Hudson 5/0 1. Oleg Frolov, Toronto 4/0

2. Jiadong Xu, Binghamton, 3/2 2. Blake Cottrell, Akron 3/1

3. Dio De Los Santos, Binghamton 2/3 3. Vadim Korneev, Windsor 2/2

4. Raymond Nagel, Buffalo 2/3 4. Mike Brown, Rochester 1/3

5. Shreyans Bafna, Cleveland, 2/3 5. Ravi Syal, Windsor 0/4

6. Dustin Zemaitis, Rochester 1/4

Division 3U Divison 3L

1. Greg Gennuso, Buffalo 3/2 1. Roy Dietz, Canton 4/0

2. Marijo Letic, Cleveland 3/2 2. Royce Zuniga, Hurricane WV 2/2

3. Alex Foley, Toronto 3/2 3. Troy Muggah, Toronto 2/2

4. Bob Cox, Pittsburgh, 2/3 4. Taylor Pancoast, Jamestown 2/2

5. Ryan Miller, Cochranton 2/3 5. Istvan Kovacs, Slippery Rock 0/4

6. Dave French, Guelph 0/5

Division 4U Division 4L

1. Zack Wawrzaszek, Rochester 4/1 1. Dan Hageman, Cleveland 4/0

2. Saher Al-Ghazi, Rochester 3/2 2. Alric Beach, Aberdeen SD 3/1

3. David Shih, Rochester 3/2 3. Mike Rostankowski, Cleveland 2/2

4. Greg Soltys, Erie 2/3 4. Don Onnen, Coventry CT 0/4

5. Chad Moore, Erie 2/3 5. Rich Baker, Syracuse 2/3

6. Burair Kothari, Rochester 1/4

Division 5U Division 5L

1. Mike Gueth, Syracuse 5/0 1. Dan Waugaman, Erie 4/0

2. Jeff Pepper, Pittsburgh 4/1 2. Jordan Niver-Johnson, Utica 2/2

3. Koen Kron, Rochester 3/2 3. Kalina Kron, Rochester 2/2

4. Craig Nivens, Erie 2/3 4. Dana Johns, Meadville 2/2

5. Anil Bholankar, Erie 1/4 5. Greg Cosby, Buffalo 0/4

6. Mike Miller, Cochranton 0/5

Division 6U Division 6L

1. Kort Kron, Rochester 5/0 1. Garrett Matott, Utica 4/1

2. Ishaq Khotari, Rochester 4/1 2. Annie Liu, Solon 4/1

3. Mark Morrow, Erie 2/3 3. Laura Paglin, Cleveland 3/2

4. Eva Zielinski, Erie 2/3 4. Ray Hric, Erie 3/2

5. Chris Kron, Rochester 2/3 5. Junqi Wu, Buffalo 1/4

6. Sarveen Khatami, Cleveland 0/5 6. Jicheng Li, Buffalo 0/5

2-Man Teams Sunday April 13

Division 1

1. A.J. Carney / Des Preston 5/0

2. South Park (Coulter, Walk, Seemiller) 4/1

3. Tom Yost / Don Hamilton 2/2

4. Wayne Carney / Aydin Aykanat 1/3

5. Marc Maronian / Dustin Zemaitis 0/4

Division 2

1. Jiadong Xu / Dio De Los Santos 4/1

2. Ralph Ubry / Jim Spetsios 4/1

3. Dave French / Joe Grandalski 3/2

4. Ravi Syal / Vadim Korneev 3/2

5. Alex Foley / Troy Muggah 1/4

6. Burair Kothari / Saher Al-Ghazi 0-5
Division 3

1. Dan Emord / Zack Wawrzaszek 5/0

2. Chad Moore / Dan Waugaman 4/1

3. Koen Kron / Ishaq Kothari 3/2

4. Craig Nivens / Dana Johns 2/3

5. Kort & Kalina Kron 1/4

6. Jordan Niver-Johnson / Garrett Matott 0/5